Let's eliminate the barriers to mental health care.
Building an open-access care system.
We will help you build that system, to ensure people get the mental health and addictions support they need, when they need it.
Transforming mental health across the globe.
We are a not-for-profit consultancy and the creators of Stepped Care 2.0© (SC2.0), a revolutionary new methodology that transforms how mental health services are accessed and delivered.
Our global team of facilitators, trainers and subject-matter experts are ready to collaborate with you to co-design and implement an innovative mental health care system that addresses the unique needs of your organization or community.
A paradigm shift in mental health care.
The SC2.0 methodology fundamentally re-imagines how mental health care systems can — and should — work to provide better care.
Person-centered in its approach, it empowers people by providing quick, accessible, diverse and easily adjustable levels of care, resulting in better outcomes for individuals and communities.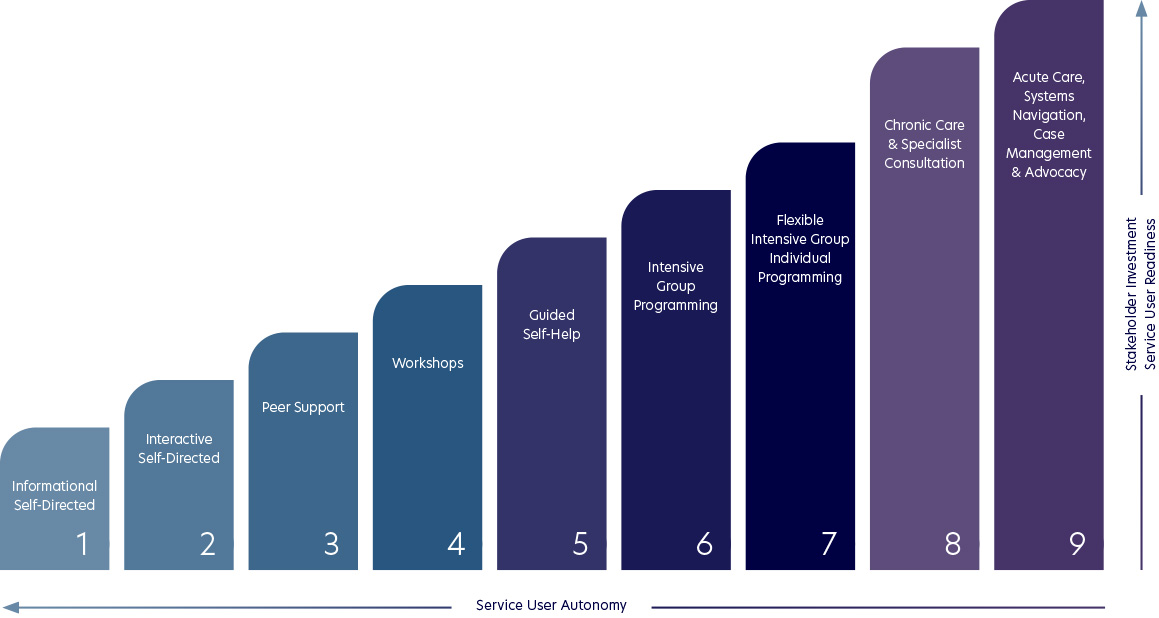 A collaborative process designed for success.
We believe every community is unique. That's why we bring a team of leading world experts to facilitate collaborative design with the policymakers, administrators, community members and stakeholders who have the capacity to drive change in your organization or jurisdiction. Our team of consultants will work with you to ensure the successful implementation of mental health care solutions and initiatives that reflect the distinct needs and cultures of the people you serve.
"You need not agree with every component of SC2.0 (I don't), and you can obviously assimilate parts of the model (I will). But this is a bold, big plan for personalized population health. SC2.0 presents nothing less than innovative disruption in health care, extending the lead of the UK and others."
John C. Norcross, PhD
Distinguished Professor of Psychology, University of Scranton
Our clients, partners and collaborators.
From consultation and training modules, to partnerships between private sector innovators and health system decision makers, we're proud to have contributed our expertise and resources to help our partners and collaborators implement innovative systems and initiatives that consistently deliver mental health care with enhanced outcomes.
Interested in hearing us speak?
We are always excited to talk about SC2.0 and the cutting edge of mental health care transformation. If you are unable to attend a presentation, reach out to us for an informal discussion.
Ready to rethink mental health care?
Speak with one of our consultants.