Stepped Care 2.0 methodology.
A framework for better, more accessible mental health systems.
Developed in Canada by Dr. Peter Cornish, Stepped Care 2.0© (SC2.0) is an innovative, evidence-informed framework for organizing mental health and addiction services into a co-designed, flexible system of care. Unique in its client-centric and recovery-oriented approach, the model is designed and implemented to fit the needs of diverse organizations and communities.
Together, we will co-design a flexible system of care that is responsive to the particular needs of your organization and community members. Our co-design is rooted in principles of diversity, equity and inclusion. Every step of the way, care approaches are co-designed to redress inequities within current systems of care.
Learn more about the SC2.0 methodology and implementation.
Subscribe to our mailing list below to download the guide highlights.
See applications of SC2.0 methodology to organizations and communities like yours.
We help you reshape your current mental health and addiction programs and expand your range of strength-based care options to include formal and informal services such as traditional interventions, innovative e-mental health programming, peer support, upstream early intervention and mental health promotion to create an integrated and equitable system of care that fosters wellness and resilience in your community.
Like the UK stepped care model, SC2.0 offers increased access to care at various levels of intensity, with individuals being stepped up or down, as needed. SC2.0 advances the UK model by offering clients a choice of an extended range of services based on individual needs, preferences and readiness to engage.
Programming is adjusted, in part, given client response and preference, rather than relying on symptom-based, one-size-fits-all manualized treatment protocols. Both client and provider engage in continuous feedback on progress, empowering clients and providers to collaborate more in care options, decisions and delivery. SC2.0 is designed to create a productive fit between client and care.
Open Access
SC2.0 provides flexible, open-access care to help at the point of need and point of readiness, with minimal assessment.
Co-developed
SC2.0 facilitates a system of care that is co-developed with clients, providers, organizations and the community, resulting in a range of services.
Systematic Reach
SC2.0 creates a more systematic reach of support and distribution of care across the whole population.
Client-centric
SC2.0 is recovery-oriented and client-centric.
Continuous Improvement
Client care, program and system building is based on continuous improvement and benefits both providers and clients accessing care.
The SC2.0 model is organized around the full continuum of care, with nine steps ranging from Step 1: Informational Self-Directed Care to Step 9: Acute Care, Systems Navigation, Case Management & Advocacy. The implementation of SC2.0 involves selecting services, such as e-mental health interventions, self-guided support, peer support, group programming and in-person therapy, that align with these steps.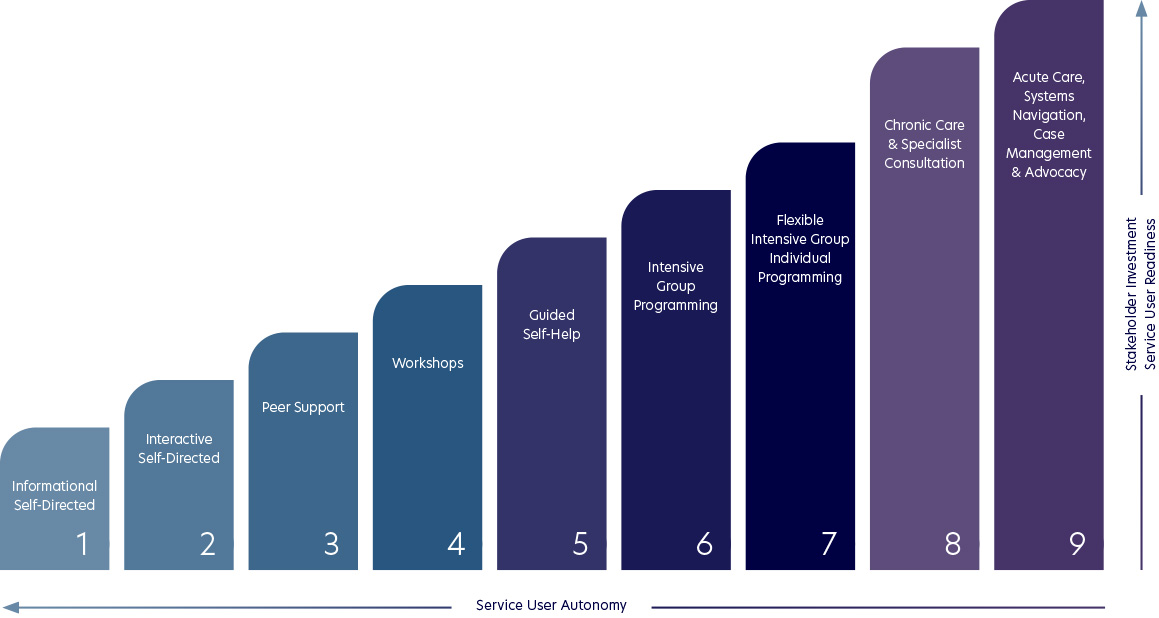 Three dimensions of intervention intensity.
Care elements associated with the nine steps are organized along three dimensions.
Stakeholder investment

 
Stakeholders include help seekers, providers and funders. As intervention intensity increases, a greater investment (i.e., time, effort, and cost) is required to achieve positive results.
Service user autonomy

 
As step levels and intervention intensity increases, the amount of autonomy correspondingly decreases. While autonomy is greatest when service users are using lower step resources, which include activities they can do on their own, at higher steps, service users require more assistance. At Step 9 for example, in the case of involuntary hospitalization, service user autonomy is much lower.
Service user readiness

 
As step levels increase, service users need to be ready, willing and able to engage in the associated higher intensity programming.
While each community's SC2.0 model will have variability and flexibility when it comes to the services offered, all include a continuum of care aimed at meeting diverse client needs.
Implementing the SC2.0
m

odel.
To guide implementation, we draw upon multiple fields, including psychology, social work, medicine, public health, implementation science, quality improvement and change management. We apply best practices purposively to bring impactful, systematic and sustainable change.
Although SC2.0 may look different in every community, successful implementation involves nine core components (not to be confused with the nine steps of care programming).
Core components are considered key ingredients that directly contribute to the effectiveness of implementation. Each SC2.0 core component has practice standards to support the implementation and evaluation of the model in your community. However, implementation remains flexible, contextualized to local culture, history, resources and needs.
Core components of the SC2.0 model.
Four phases of implementation.
Our team applies evidence from implementation research to promote a deliberate, purposeful and systematic implementation process that leads to sustainable change. To be effective, implementation strategies are applied carefully through phases that are tailored to the context of each organization and community.
Although we present a phased process, implementing a complex system change such as SC2.0 is not linear and often requires cycling back to previous stages. This process aligns well with the SC2.0 principle of continuous improvement.
Phase 1:
Building Readiness
Assemble implementation team
Engage key stakeholders
Host Phase 1 training
Host internal discussions
Complete foundational tasks
Phase 2:
Preparing for Success
Populate the service model
Host Phase 2 training
Develop evaluation framework
Phase 3:
Starting to implement
Offer services on a small scale
Collect and review data
Facilitate improvement cycles
Ongoing communication with all stakeholders
Phase 4:
Ongoing Implementation and Improvements
Expand services and continue improving